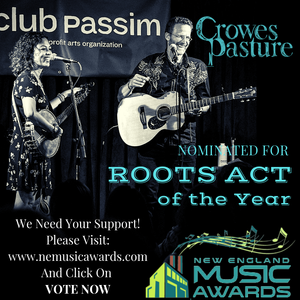 Crowes Pasture has been nominated for "Roots Act of the Year" for the New England Music Awards! What an incredible honor!
Could you help them out with your vote? It only takes a minute, and you don't have to live in New England in order to vote! They would be incredibly grateful and will love you even more than they already do... but is that even possible?
All you have to do is go to www.nemusicawards.com and scroll down to the "Roots" category (voting along the way if you wish), and you'll find Crowes Pasture listed second in their category.
Results will be announced at the official awards show at Mixx 360 on September 7th. 
Thank you, as always, for your support!