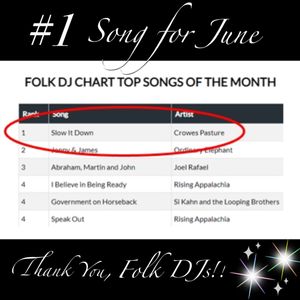 Crowes Pasture debuted their album, "Slow It Down," on Folk Radio in June. Here are some performance results!
The title track of the new album, "Slow It Down," is the #1 SONG!!! 
Their cover of Mary Gauthier's "Mercy Now" is #8!!
Their cover of Bob Marley's "Is This Love" is #23!!
"Slow It Down" is the #5 ALBUM for the month!!
And, Crowes Pasture is the #8 TOP ARTIST of the month!!
Monique and Andy wish to thank Bas Van Der Brugge for his beautiful fiddle playing; Doug Kwartler for his great production work on the album; Erik Balkey and Glenn Barratt for mixing and mastering; Hudson Harding for distribution; Jenn Armstrong at Kindred Roots Entertainment Group for being such a kind, caring and diligent manager; and of course, all of the wonderful Folk DJs who are dedicated to getting the music of independent folk artists out there and heard! You are our heroes!