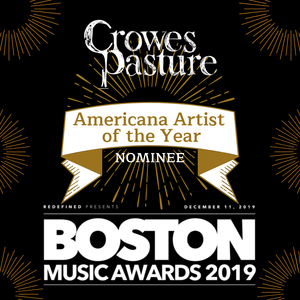 Oh my goodness! Crowes Pasture has been nominated for a Boston Music Award as "Americana Artist of the Year!" 
What an incredible honor to be recognized alongside so many other amazing artists! Sharing the Americana ballot with Crowes Pasture are Honeysuckle, Jake Swamp & The Pine, Julie Rhodes, Sara Borges & The Broken Singles, Session Americana, Susan Cattaneo, These Wild Plains, Todd Thibaud, and Twisted Pine.
Voting is currently open and will close on November 1st. To vote for Crowes Pasture, please visit https://bostonmusicawards.com/nominees/.
Winners will be announced on December 11th at House of Blues. Tickets are available online at https://bostonmusicawards.com/product/2019ticket/.
As always, thank you for your support!